Passengers of the Metro Rail Transit (MRT) were forced to walk on elevated railroad tracks when one of the trains suddenly stopped between the Cubao and Santolan stations.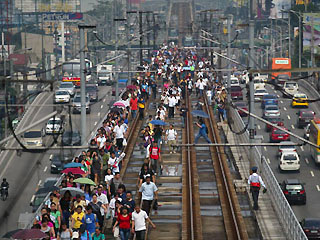 MRT commuters walk along the tracks after a southbound train broke down between the Cubao and Santolan stations on Thursday. GMANews.TV
Radio dzBB's Sam Nielsen reported several southbound commuters had to walk on tracks back to the Cubao Station in Quezon City.
"Nasunog ang wire, sa may Cubao ... Doon lang ang tren sir
(An electrical wire supposedly burned out. The MRT coach was left there)," said one of the commuters.
At least eight female commuters suffered minor injuries after being pushed out the MRT coach.
One of the passengers said that when someone pressed a button activating the coach's emergency brake, the door on the side of the railroad track opened.
"Nagtulakan na, kung di ka pa pababa, matutulak ka pababa ... Natulak din ako palabas
(There was shoving such that even if you do not want to get off, you get pushed out the coach. I was one of those who was pushed out)," said one of the injured.
A separate dzBB report said the disruption also affected other stations, including the Ayala station which was congested with commuters waiting for their ride.
It was the latest disruption to hit the operations of the MRT, which along with the Light Rail Transit are to charge higher fares in coming weeks.
MRT operations were back to normal few minutes after the disruption, the radio report said.
On Tuesday evening, an escalator at the MRT's Ayala station malfunctioned, injuring at least nine commuters.
The incident prompted the Department of Transportation and Communications to order a full inspection of the MRT and Light Rail Transit's elevators and escalators.
— LBG, GMANews.TV