lsen Racela, the oldest active player in the Philippine Basketball Association (PBA), is ready to face his new challenge after the Philippine Cup — coaching.
And there's no other more challenging than starting his coaching career by handling the national squad. The 18-year pro league veteran is being groomed to become the new head coach of the Philippine Youth basketball team.
Racela confirmed to GMANews.TV that there was an offer made by people from the Samahang Basketbol ng Pilipinas (SBP) regarding the possibilities of him coaching the national youth team.
"
May mga kumakausap sa akin from the SBP
," said Racela in a telephone interview Thursday night. "And I told them that I'm interested.
Tamang-tama naman yun
because I'm set to retire after the Philippine Cup."
And if ever the national team coaching job would fall into his lap, he will bring to the coaching staff his elder brother, Nash Racela.
Still without a coaching experience, the San Miguel Beermen team captain believes Nash will be a big help in terms of giving him inputs when it comes to coaching.
"He hasn't given me coaching pointers yet, because I'm still playing. But definitely, he will be part of the coaching staff if ever the head coaching post in the Philippine Youth team will be given to me," added the younger Racela.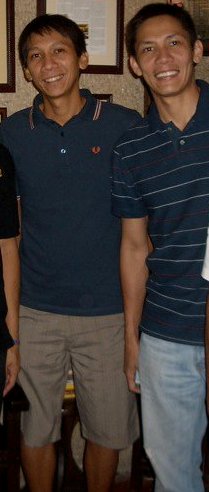 Brothers Olsen (right) and Nash Racela may work together in the huddle as possible members of the Philippine Youth basketball team coaching staff.GMANews.TV
A former third-string guard, who blossomed to become one of the most dependable sentinels in the history of the league, Racela is keen on ending his playing career with a big bang. His Beermen is within striking distance of winning another championship.
Presently, the Beermen are the wininngest ball club in the PBA with 18 titles.
The 40-year-old, two-time member of the all-pro national team to the 1998 and 2002 Asian Games, has already played 918 games — and counting.
But don't tell Racela that life begins at 40. An 18-year career and championships won in both teams he played for in the PBA, there's nothing more to prove, according to the former Ateneo Eagles stalwart.
"I never expected to play this long," said Racela. "I was so blessed that I'm almost injury-free."
But there's one more wish before he officially hangs his jersey at the end of the Philippine Cup — that is to retire as a champion and complete all his 10 fingers with championship rings. -
JVP, GMANews.TV